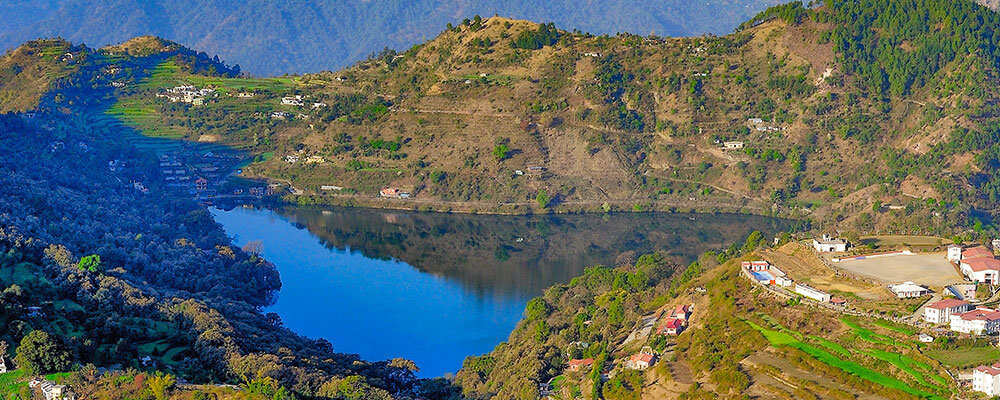 Your quest for a perfect holiday destination halts at Bhimtal in Uttarakhand. Known for its picturesque Bhimtal Lake. This town is surrounded by pine and oak forests, beautiful landscapes and a hoard of adventurous activities. Blessed with abundant natural beauty, this place offers tourists an opportunity to witness the loveliness of Bhimtal.
Rest and snoop around the terrains and valleys, or just while away your time visiting the famous aquarium on the island of Lake Bhimtal or follow the devotees to the famous Bhimeshwar Mahadev temple to appreciate the sculpted interior and exterior.
Economical and affordable stays are provided for tourists. Resorts, hotels and rental homes or homestays are the main types of stays that a tourist may opt for. If you want to experience the real charm of Bhimtal, rent a room at a homestay that brims with family love. Colonial structures, bungalows, ancestral cottages are now converted as residents for the visitors. The old infrastructures are fitted with modern amenities to offer a comfortable stopover for the visitors.
Away from the hustle and bustle the homestay of Bhimtal near the Lake is strategically located. The rural environment is healthy, pollution-free and a place where you are accepted as a member of a village. The rooms of a homestay, allotted to the guests, are painted in warm colours and has big windows to maintain good ventilation. The room of a homestay is equipped with amenities such as TV, Internet, DVD, and a classic fireplace to warm you during the harsh winters.  The attached bath has a shower and a geyser with 24 hours of hot/ and cold water.  The hosts of homestays can whip up many local and Indian recipes to woo the guests.
A homestay of Bhimtal near the Lake is shrouded by a lush green landscape. Terraced fields, beds of blooming flowers, orchards loaded with fruits are some of the enchanting encounters that meet your eyes. Indulge in a trekking expedition to enjoy the green valley, the twittering of the birds, clean air and above all – the sound of absolute 'silence.' You could also try boating on the water of the Bhimtal Lake or test your courage by doing paragliding.
Enveloped by a peaceful atmosphere, a homestay in Bhimtal near the lake is perfect for a trip. It helps a visitor to grasp the exquisiteness of the emerald mountains, the glimmering Lake, the scented flowers, the multi-colored plumage, and the night stars.