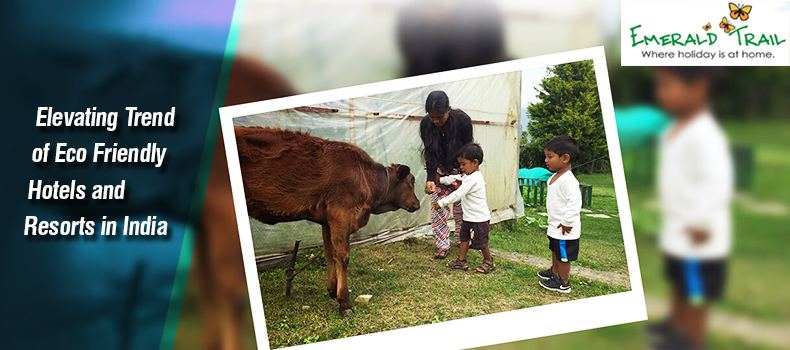 Caring for the environment and minimizing the harm to it, is being eco friendly. Some hotels, resorts, residential buildings, and offices are adopting this trend. Cutting down of trees, usage of chemicals in farms and burning of waste pollutes and harms the atmosphere awakening the deadly hazard of global warming.
There are many eco-friendly hotels in India that has taken an initiative in bringing down the level of pollution. These hotels shy away from the use of chemicals and fertilizers. Plant extract and saps are used as an insecticide. Solar energy is harnessed for water heaters, solar cookers and lighting the premises, thus, minimizing the consumption of electricity. Greywater is channeled to the gardens where vegetables and fruits are grown without the use of harmful chemicals. The kitchen is supplied with these organic vegetables. Thus, healthy and hygienic cuisine is prepared here.
The concept of eco-friendly resorts and hotels in India has been adopted in many destinations, across the country, creating the importance of saving the environment. The state of Uttarakhand has many eco-friendly resorts. The State has many beautiful landscapes nuzzled amidst the snow-draped mountains of the Himalayas. The land of Lakes, Temples, and Forests abundant in the richness of Flora and Fauna attracts many devotees, shutterbugs, and tourists that need a few days of the calm and unpolluted atmosphere.
Experience a lavish stay at the eco-friendly hotels in India. It is an amazing concept introduced in the tourism sector in India and a person should make the stay at these hotels and resorts at least once in the lifetime.