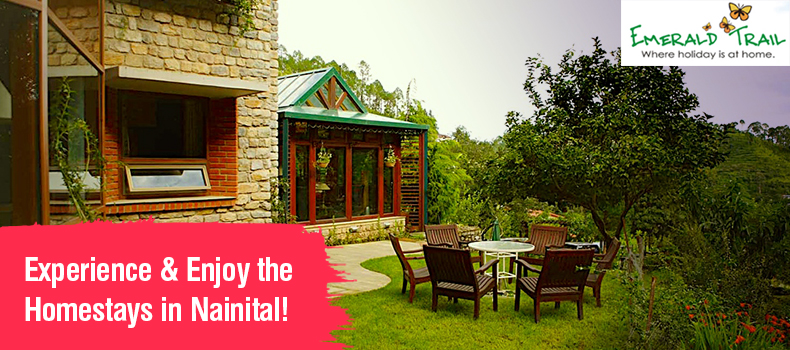 If you are planning of visiting Nainital, the place doused in tranquility and enveloped with the sweet fragrance of the flowers, pack your bag to observe the real magic and to enjoy the grandeur of Mother Nature. Nainital is famous for the Mountains, Lakes, local cuisine and activities such as horse riding & trekking.
The lush green hills of Nainital are covered with snow in winter, making the place look like a replica of heaven brought down to the Earth, especially for you. Staying in Nainital can be at hotels, resorts or homestay. If you want to feel the enchantment of Nature at arm's length, then lodge into an accommodation that is perched on the hills, away from the crowd and surrounded by the beauty that mesmerizes even the dullest of the living being.
Located at a height, the homestay in Nainital treats you with the lush green deciduous trees, blue sky, and fresh air. Beautiful flowers and grass, on the path that leads to the homestay, offers a welcoming mat to the guests.
The capacious room and cottage can accommodate a family or solo travelers. The bedrooms have en-suite bathrooms. The interior of a room is furnished with modern-day facilities like a wardrobe, a comfortable bed, a table, a furnished lounge area, TV and much more. You can have the liberty to cook your own meals or can join the host family during the meals. The meals may not be what you devour at the restaurant of a luxurious hotel, but still, the home-cooked food are freshly cooked and served hot.
Some of the homestay in Nainital is pet friendly. Your pet will get the same love and consideration that you receive. An extra bed and feeding bowls will be provided. Just make sure you carry all the necessary documents regarding his vaccinations and fitness when you plan for a trip.
You can go on nature walks or move around the property of your hosts which are usually orchards and farms. You are always welcome to lend a helping hand at work. Enjoy your holidays in the peaceful cottage sipping your favorite drink and enjoying the splendid colors of the seasonal flowers in the garden.
Take a walk along the winding village path to discover the forest trails, or sit under the shade of a tree relaxed with a good book, or just take a walk through the market. You are at liberty to do as you please.
Experience a home-like comfort and great hospitality with all the luxuries of a comfortable stay. Homestay in Nainital has many benefits, all at an affordable price, to make your stay exceptionally pleasing.