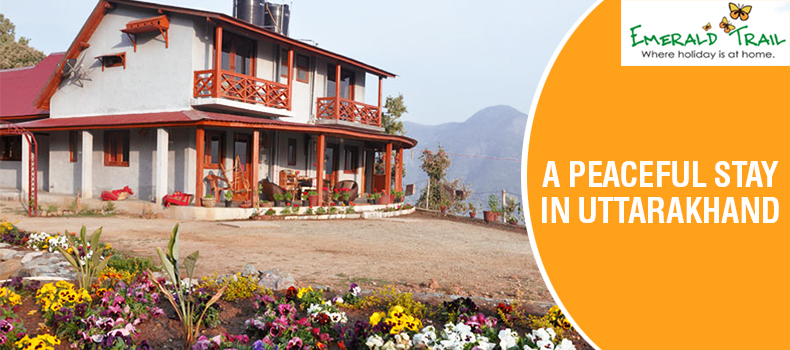 Humans need a few moments of a recluse that acts as a diversion from the hectic lifestyle we follow in cities. Tired from our daily routine, a hermitage in a remote place acts as a medicine to revive you from your tensed life.
Love for Nature can pull you towards Uttarakhand, the state known for its beautiful destinations and its incomparable beauty. Homestays, here, is getting popular as people prefer to stay in a homely atmosphere. Locals in Uttarakhand allot accommodations in their homes or cottages for the tourist at a decent rent. The rent of a place can vary according to the amenities and facilities allotted.
Most of the homestay is situated near the jungle. The route to these places is usually bumpy jeep rides or by walks on the beaten-tracks in the tree-covered region. En route, you can enjoy the flower beds and the fruits laden trees in orchards. Tranquility and serenity engulf a homestay in Uttarakhand.
The owners or the hosts are locals who dwell in ancestral homes or colonial 'dak' bungalows adjacent to orchards and farms. The rooms of the guests are tastefully furnished with furniture, books, and amenities to give them the required comfort and peace. Depending on the location/destination, a homestay in Uttarakhand can provide the guests with the basic amenities or with all the modernized comfort. The rooms have attached bathrooms with hot water taps.
While staying at a homestay, guests can explore the village, the local community, their traditions, and culture. They are welcomed at local gatherings, functions, and festivals. They are treated as the guest of the village. Guests can, at will, join the locals at their farms or lend a hand at the orchards.
These places have beautiful picnic spots, where one can enjoy a day out among the valley surrounded by hills and gurgling streams.  The hosts can also arrange for activities such as skiing and trekking. Homestays are getaways for the bird watchers, yoga enthusiasts, trekkers, campers, writers, dreamers, and artists. An antidote for the workaholics!
Guests get more for their money compared to staying at other accommodations (hotels/resorts) in Uttarakhand. The warm and personal care of the host family makes you feel at home. It is a real joy to be a part of the local family!